Twitter adds 1.6 million active users daily in the last week. This was revealed by Elon Musk, who said last week was an all-time high for the social media platform.
The weekly chart released by Musk shows that the average weekly users on the platform rose from 257.8 million on November 13 to 259.4 million. Then 259.4 million on November 20, 2022, totaling the number at 1.6 million growth.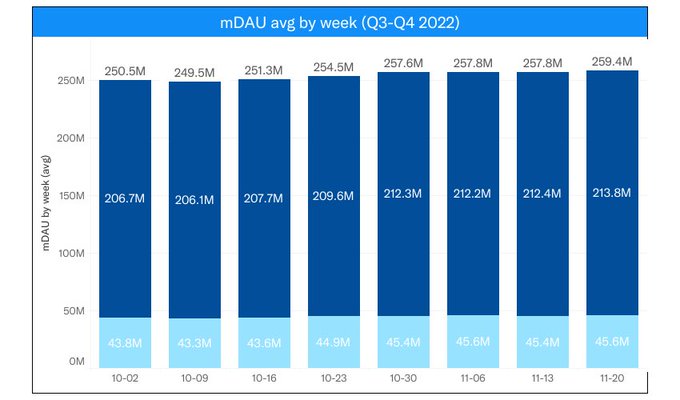 Source: Nairametrics
Twitter 1.6 Million Active Users: Throwing Shades?
The chart revealed by Musk was prompted in response to the trending hashtags #RIPTwitter and  #GoodbyeTwitter. 
According to him, more people are using the platform despite many saying they are leaving due to fear of collapse.
There have been speculations that people are leaving Twitter because of Musk and his unfavorable policies being introduced since he took over the ownership of Twitter.
These include the introduction of $8 a month for the Blue Check and restoration accounts earlier banned by Twitter for violating the platform's policy.
Twitter Employees' Resignation
The employees were resigning in protest to Elon Musk's demand that they should choose to be "extremely hardcore", working long hours or lose their jobs.
This is coming after the mass sacking (3,700 workers) of the new Twitter owner. The lead engineers have also resigned.
The report has however claimed that Musk is unmoved by the current happenings in the tech company. In his reply, he said, "the best people are staying, so I am not super worried."
Twitter Blue Relaunch
Meanwhile, Musk announced on Monday night that he has put on hold the planned relaunch of the Twitter Blue button.
The initial rollout of the subscription plan had failed. Impersonators were quick to create accounts with the names of high-profile personalities that are not on Twitter.
"Holding off the relaunch of Blue Verified until there is high confidence in stopping impersonation. Will probably use different color checks for organizations than individuals."
Follow techkudi.com for more fintech news